Posts for tag: gum disease
By Cole Family Dentistry
December 09, 2018
Your risk for periodontal (gum) disease increases if you're not brushing or flossing effectively. You can also have a higher risk if you've inherited thinner gum tissues from your parents. But there's one other risk factor for gum disease that's just as significant: if you have a smoking habit.
According to research from the U.S. Centers for Disease Control (CDC), a little more than sixty percent of smokers develop gum disease in their lifetime at double the risk of non-smokers. And it's not just cigarettes—any form of tobacco use (including smokeless) or even e-cigarettes increases the risk for gum disease.
Smoking alters the oral environment to make it friendlier for disease-causing bacteria. Some chemicals released in tobacco can damage gum tissues, which can cause them to gradually detach from the teeth. This can lead to tooth loss, which smokers are three times more likely to experience than non-smokers.
Smoking may also hide the early signs of gum disease like red, swollen or bleeding gums. But because the nicotine in tobacco restricts the blood supply to gum tissue, the gums of a smoker with gum disease may look healthy. But it's a camouflage, which could delay prompt treatment that could prevent further damage.
Finally because tobacco can inhibit the body's production of antibodies to fight infection, smoking may slow the healing process after gum disease treatment.  This also means tobacco users have a higher risk of a repeat infection, something known as refractory periodontitis. This can create a cycle of treatment and re-infection that can significantly increase dental care costs.
It doesn't have to be this way. You can substantially lower your risk of gum disease and its complications by quitting any kind of tobacco habit. As it leaves your system, your body will respond much quicker to heal itself. And quitting will definitely increase your chances of preventing gum disease in the first place.
Quitting, though, can be difficult, so it's best not to go it alone. Talk with your doctor about ways to kick the habit; you may also benefit from the encouragement of family and friends, as well as support groups of others trying to quit too. To learn more about quitting tobacco visit www.smokefree.gov or call 1-800-QUIT-NOW.
If you would like more information on how smoking can affect your oral health, please contact us or schedule an appointment for a consultation. You can also learn more about this topic by reading the Dear Doctor magazine article "Smoking and Gum Disease."
By Cole Family Dentistry
October 30, 2018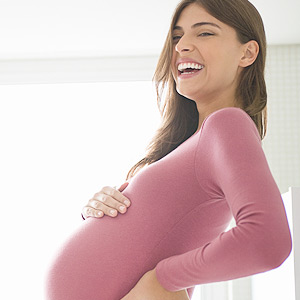 For a healthy pregnancy, it helps to have healthy teeth and gums. In fact, the American College of Obstetricians and Gynecologists (ACOG) encourages its members to advise expectant moms to see their dentist. But maintaining oral health can be more challenging when you're expecting. For one thing, hormonal changes make you more susceptible to periodontal (gum) disease, which has been linked to "systemic" (general body) health problems including preterm labor and low birth weight.
Periodontal (gum) disease results from the buildup of bacterial plaque on tooth surfaces in the absence of good oral hygiene. It typically starts as gingivitis — inflammation and redness around the gum margins and bleeding when brushing and flossing. If the infection progresses, it can attack the structures supporting the teeth (gums, ligaments, and bone) and may eventually result in tooth loss. And if the infection enters the bloodstream, it can pose health risks elsewhere in the body. Studies suggest that oral bacteria and their byproducts are able to cross the placenta and trigger an inflammatory response in the mother, which may in turn induce early labor.
TLC for Your Oral Environment
Brushing twice daily with fluoride toothpaste and flossing or using another interdental cleaner at least once daily is your first-line defense again bacteria buildup. Professional cleanings are also important to remove hardened plaque (calculus) that brushing and flossing may miss. And regular checkups can catch problems early to avoid or minimize adverse effects. Periodontal disease and tooth decay aren't always painful or the pain may subside, so you won't always know there's a problem.
Dental emergencies such as cavities, root canals and tooth fractures should be treated promptly to address pain and infection, thereby reducing stress to the developing fetus. Of course, if you know you need a cavity filled or a root canal prior to becoming pregnant, that's the optimal time to get treated!
If you would like more information about dental care during pregnancy, please contact us or schedule an appointment for a consultation. You can also learn more about the subject by reading the Dear Doctor magazine article "Pregnancy and Oral Health."
By Cole Family Dentistry
December 06, 2017
Although periodontal (gum) disease usually affects your gums first, your teeth may eventually suffer. That's because the disease can damage both attaching gum tissues and supporting bone.
One advanced sign of this is when one or more teeth become loose. A loose tooth is an alarm bell that you're about to lose it.
Fortunately, we can often treat loose diseased teeth with a two-phase approach. First and foremost, we need to bring the gum infection under control by removing plaque and calculus (tartar) — the "fuel" for the infection — from all tooth and gum surfaces. Depending on how extensive it is, we have options: we can use specially designed hand instruments to remove plaque and calculus, ultrasonic equipment that loosens and flushes plaque and calculus away, or, if necessary, conventional or laser surgery.
Depending on the extent of the infection, in some cases we may need to use regenerative surgical techniques like gum and bone grafting to replace lost tissue. Healing takes time, though, which leads to the second phase of treatment — securing the loose tooth during gum healing.
The most common way is through a bite adjustment, where teeth are altered to equilibrate chewing forces evenly. This results in all the teeth being hit at the same time allowing the loose teeth to heal and tighten up.
Another option is splinting teeth together. Although there are different methods, the basic idea is to join the loose teeth with stable teeth like pickets in a fence. One way is to bond splinting material across the back surfaces of the involved teeth. Another way is to cut in a small channel across the teeth and insert and bond a rigid strip of metal to splint the teeth in place.
The splint is usually a temporary measure while the gums heal. In some situations, though, we may need to perform a permanent splint by crowning the affected teeth and then splinting the crowns together. If you have a grinding habit we may also prescribe a night guard to limit the damage done while you sleep.
Before deciding on which technique is best for you, we would first need to evaluate the health of the affected teeth to see whether the effort would be worth it. It could be the tooth's supporting bone structure has become so deteriorated that it might be better to extract the tooth and consider an implant or other replacement. First, though, we would attempt if at all practical to save the tooth — and the sooner we begin treating it, the better your chances for such an outcome.
If you would like more information on loose teeth and gum disease, please contact us or schedule an appointment for a consultation. You can also learn more about this topic by reading the Dear Doctor magazine article "Treatment for Loose Teeth."